Of yesterday for Tomorrow

2022 BFA THESIS EXHIBITION
May 10 - July 14, 2022

St. John's University's Department of Art & Design is proud to announce the opening of OF YESTERDAY FOR TOMORROW, the 2022 BFA Thesis Exhibition. This exhibition is organized by the Department Art & Design and the Yeh Art Gallery. The exhibition will be on view from May 10 – July 14, with an opening reception on Tuesday, May 10 from 4:30-7:30pm.

The work of this year's thesis exhibition embraces diverse creative techniques and approaches that encompass illustration, photography, video, sculpture, and mixed-media installation. The artists use these mediums in both traditional and new ways, engaging us effectively and surprisingly, not only through exciting imagery, but also through materials, form, and sensations.

The artists in this exhibition appear to be hyperaware of not only the passage of time, but the present on which they stand. For them, the effects of past personal experiences, the impact of unsung heroes, and the consequences of our collective decisions or lack of action, have ignited a creative process that searches for meaning and promises resolution. They all refuse to move forward ambivalently.

Adriani and Vargas search through their memories, questioning the idea of home and the events that shaped who they are, respectively. Time and space no longer confine the experiences of Tiburcio-Zane as she manipulates her memories, altering images of the past. Huaco contemplates the long and ongoing clash between nature and the built environment negotiating a balance through abstraction; while Cherpellis protests, pointing at our failure and irresponsibility as stewards of the planet. King reminds us of those forgotten and offers us the opportunity to mourn and recognize their contributions. Avril rebels against conformity and the expectations of social groups, proposing an alternative for self-expression through fashion.

They all come to terms with the causes of the "now," and bravely suggest with their works a course correction – for themselves and for us all – before the next step is taken.

Participating Artists: Sara M. Adriani, Arielle C. Avril, Catherine M. Cherpelis, Natalie T. Huaco, Ian King, Arecis Tiburcio-Zane, Delilah R. Vargas



---

Arecis Tiburcio Zane // ON SUNDAY
On Sunday is a multimedia photo-based project that uses family images, family letters, and other memorabilia to explore the grieving process of the loss of my grandparents. Carmen Gonzalez died in June of 2021 and three months afterwards my grandfather, Panuncio Tiburcio passed away. He died just days after his 74th birthday in September, shortly after Sunday Mass.

In an effort to keep my grandparents alive I am using images to trigger memories from my parents. Stories from my parents' adolescence and my grandparents' life have become the source for places I have revisited and photographed. I have used analog film and cameras as a way to connect and perhaps blend with the memories maintained by the pictures of our family albums.

On Sunday is a collection of new and old photographs, letters, and memorabilia. Some of these work as documents of past events and experiences while others have been altered to create memories I wished had happened. By adding and removing people and objects using processes such as digital alterations, solvent-based image transfers, and at times crude cutouts, I have created composites mixing reality and fiction to blur the realms of life and death. While these images both depict actual events and some that will never happen, they are a way of keeping my grandparents still alive with me as I live without them physically here.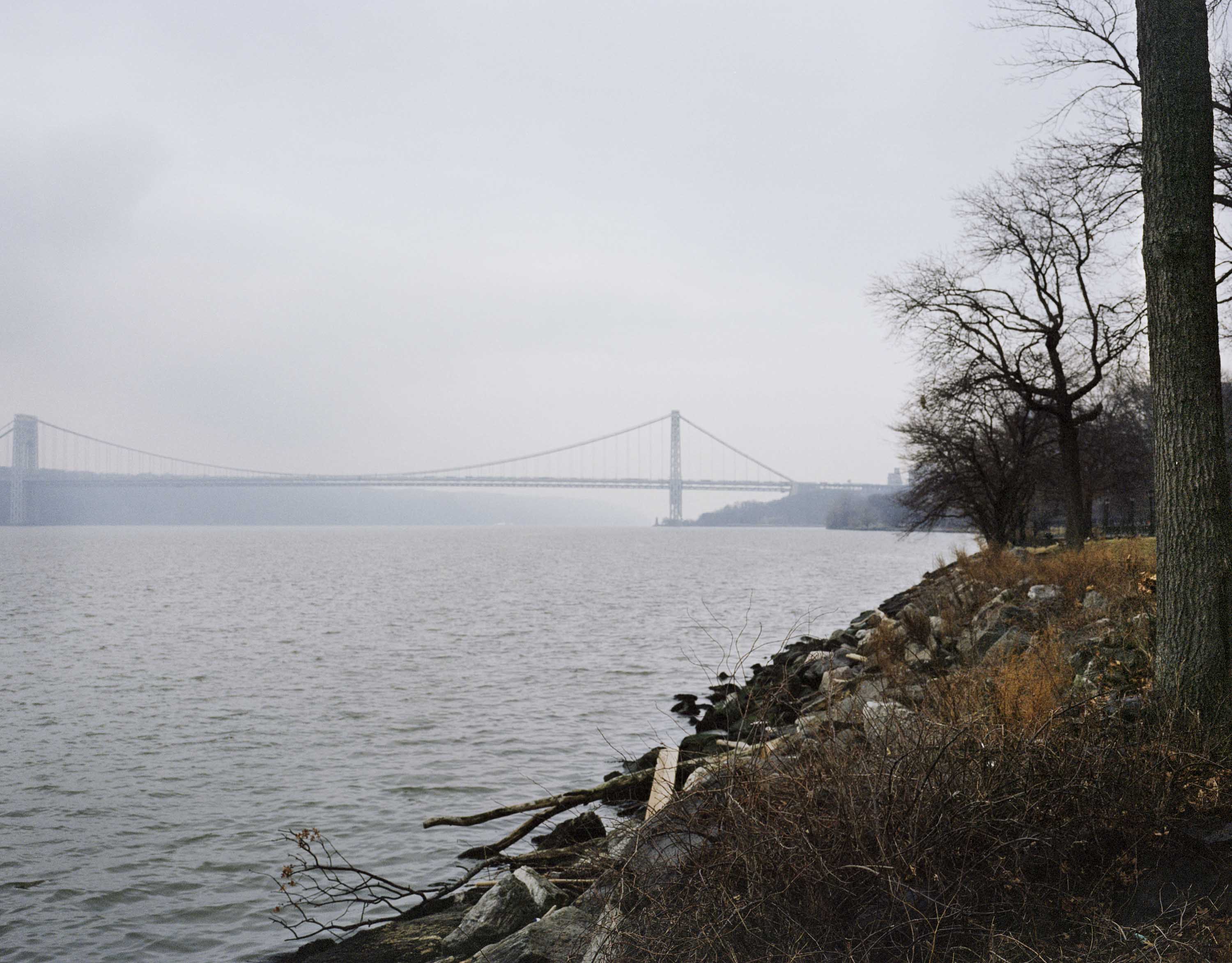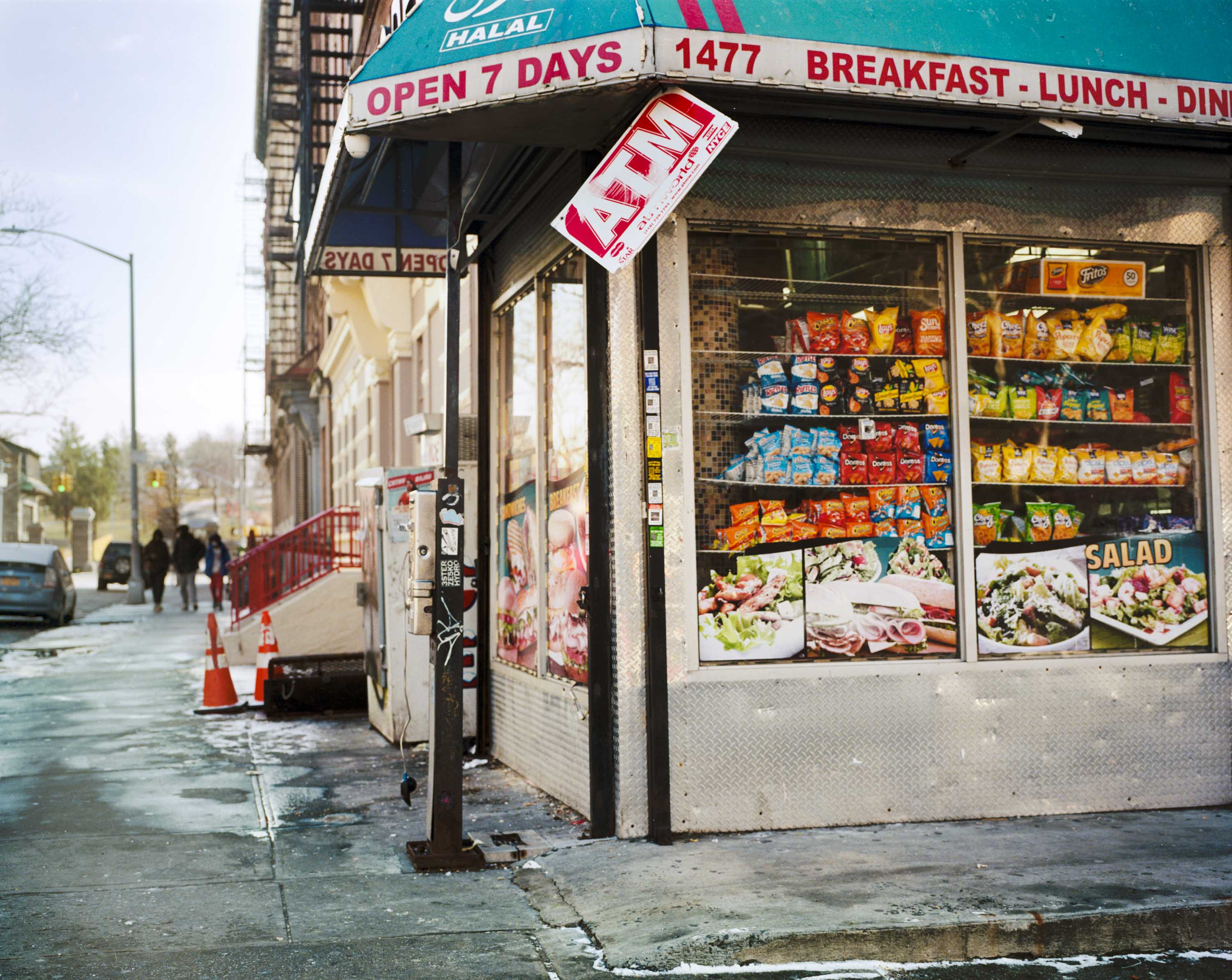 ---

Arielle Avril // ARMYBUNNY
ArmyBunny is a new clothing concept conceived by and for those who do not conform. With this body of work, I propose to remove the garments of judgement and wear the hidden attitudes of self. My goal with this project is to contribute to the evolution of alternative aesthetics and encourage the expression of freedom through the most basic and visual action we can take, the clothing we wear.

Each piece in this clothing line is made from recycled, and refurbished fabrics, such as cotton materials used for fleece and hoodies, ripped jeans, and old tee-shirts in my closet. Recycling such materials is proven to be more environmentally safe and had reduced the cost of materials needed for my project. Designs are all crafted by hand, with illustrations drafted right on the garments, or thoughtfully engineered with digital tools in Adobe Illustrator or Photoshop to print on the fabrics. All displayed pieces were inspired from "alternative" and grunge aesthetics one would find in urban neighborhoods, filled with abandon buildings dressed in graffiti, and hashtags filled with fashion ideas on Instagram. Other sources are various known street wears brands such as, Bape, Lurking Class, and RipNDip. I would begin sketching new concepts, reworking, and evolving them until I settle down on a concrete idea. At this point I begin crafting, using fabric paints and my sewing machine, and at times the aid from my neighborhood print shop. The results are one-of-a-kind wearables works of art.

As a black individual growing up in a Caribbean dominated area, I have never exactly aligned with the acceptable "Black/Caribbean" stereotype or even the mainstream image of my time and place. My preferences in clothing and lifestyle caused some backlash and a wave a ridicule growing up. Now, as an adult, I feel like I can let this inner passion be shared with the world. ArmyBunny is meant to liberate all from the oppressions of collective identities by exalting transcultural elements that support freedom for all individuals.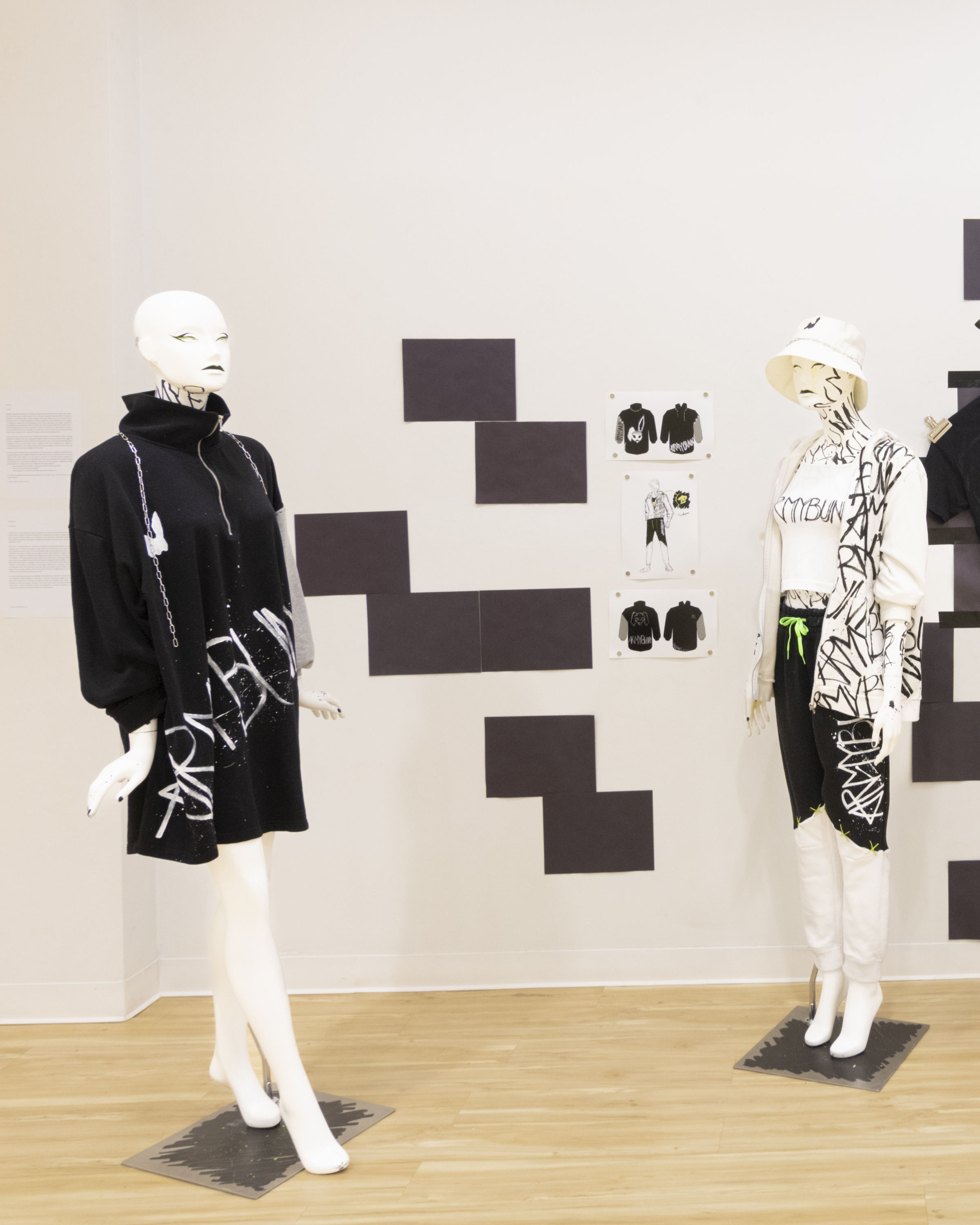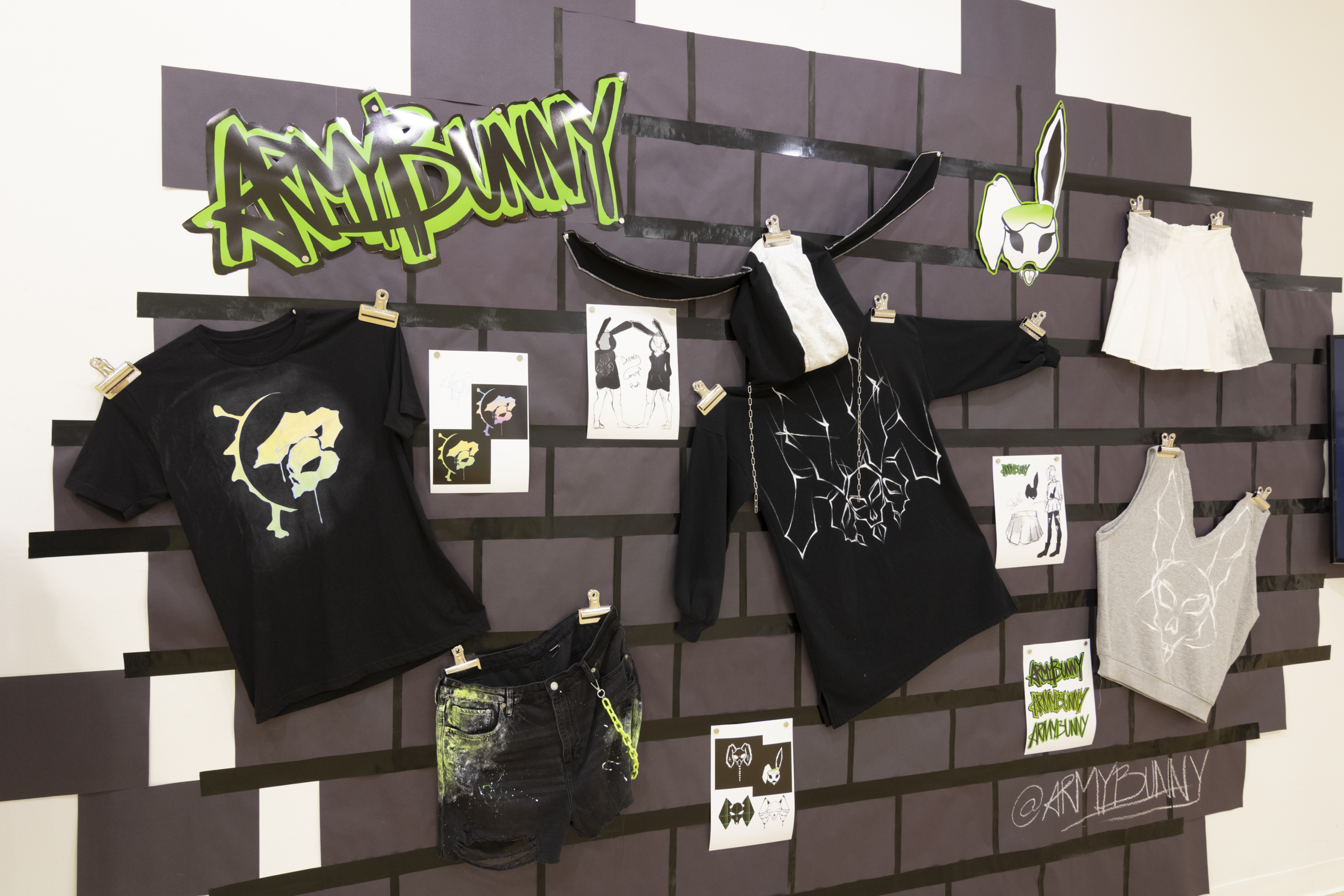 ---

Catherine M. Cherpelis // FOR YOUR ENTERTAINMENT
Most often known as killer whales, orcas have been hunted and used for human entertainment for years. These intelligent creatures were ripped away from their homes and families, being forced into an environment with strangers – orcas from different pods, and also human onlookers surrounding them every day. Their lives will never be the same after that, and most die within the cement walls that they are kept in.

For Your Entertainment is a multimedia sculpture project that aims to bring awareness to the inhumanity behind keeping such intelligent creatures as orcas in captivity. It also aims to draw attention to the corporation behind this phenomenon and how it lacks concern for its own employees, not just the animals. Using polymer and air dry clay, I created living and dead orcas. The living orcas are held within bowls of resin to replicate the idea of being held in tanks, surrounded by miniature figurines of people watching in amazement. The tanks, orcas and crowds are all placed on top of coral reefs made of styrofoam and spray foam. The foam is spray painted in a gradient, starting off with bright colors but eventually darkening as it goes on to give the effect of it rotting and dying. What the crowd fails to realize is that they are standing on the graves of dead orcas – at the bottom of the sculpture, they are piled on mounds of sand. Attached to the dead orcas are tags that viewers can touch and read to further educate themselves on the truth behind entertainment companies like SeaWorld. While looking at the sculpture, viewers will have the opportunity to hear the sounds of waves and orcas communicating with clicks and squeaks, truly immersing them in the sounds of these beautiful creatures as they struggle for life.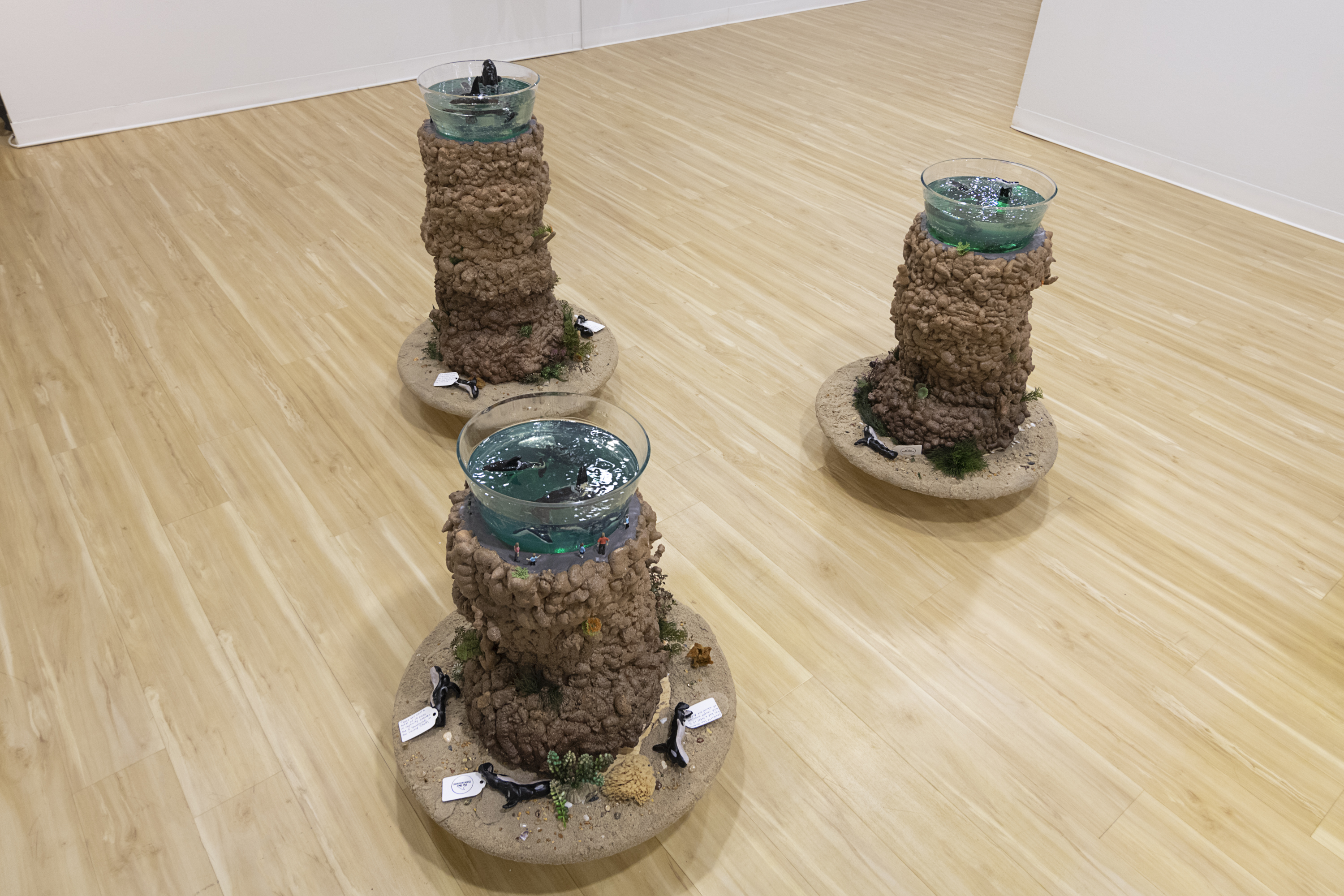 ---

Delilah Vargas // EVER PRESENT MEMORIES
Ever Present Memories is a deeply personal representation of myself in the past, present, and possible future inspired by motifs and art movements from the 20th century. I always kept far away from addressing my physical form within my artwork. Everything I've done until this point has been in the name of my own creative freedom and extensive imagination, but never once bothering with facing my own identity until now. The concept of how people think or portray themselves versus how they actually look became suddenly very fascinating to me. This body of work is part of that journey of accepting the duality in me, rather than just constantly conforming to one side.

Central to the project are four images, each reflecting a time in my life in which I remember feeling distinctly myself through the changes that were happening. I have connected these moments with periods or movements that were also transformative within art history. The content of the resulting illustrations has been heightened by the formal and conceptual symbiosis between my memories and their dialogue with these art movements. Elements of American Impressionism, Fauvism, Pop Art, Expressionism, and Surrealism are used in different instances to accentuate critical moments of personal development: a protected childhood and the trauma of loss; a pre-team's concern with appearance and expectations placed on being a woman; a teenager struggle with identity and defiance towards standards set by others; a dream of consuming and remaking oneself. Further, these digital illustrations have been animated, adding an almost puppet-like flare to the images and emphasizing the experiences, as a way to convey that they are still active, "present", memories that influence who I am today.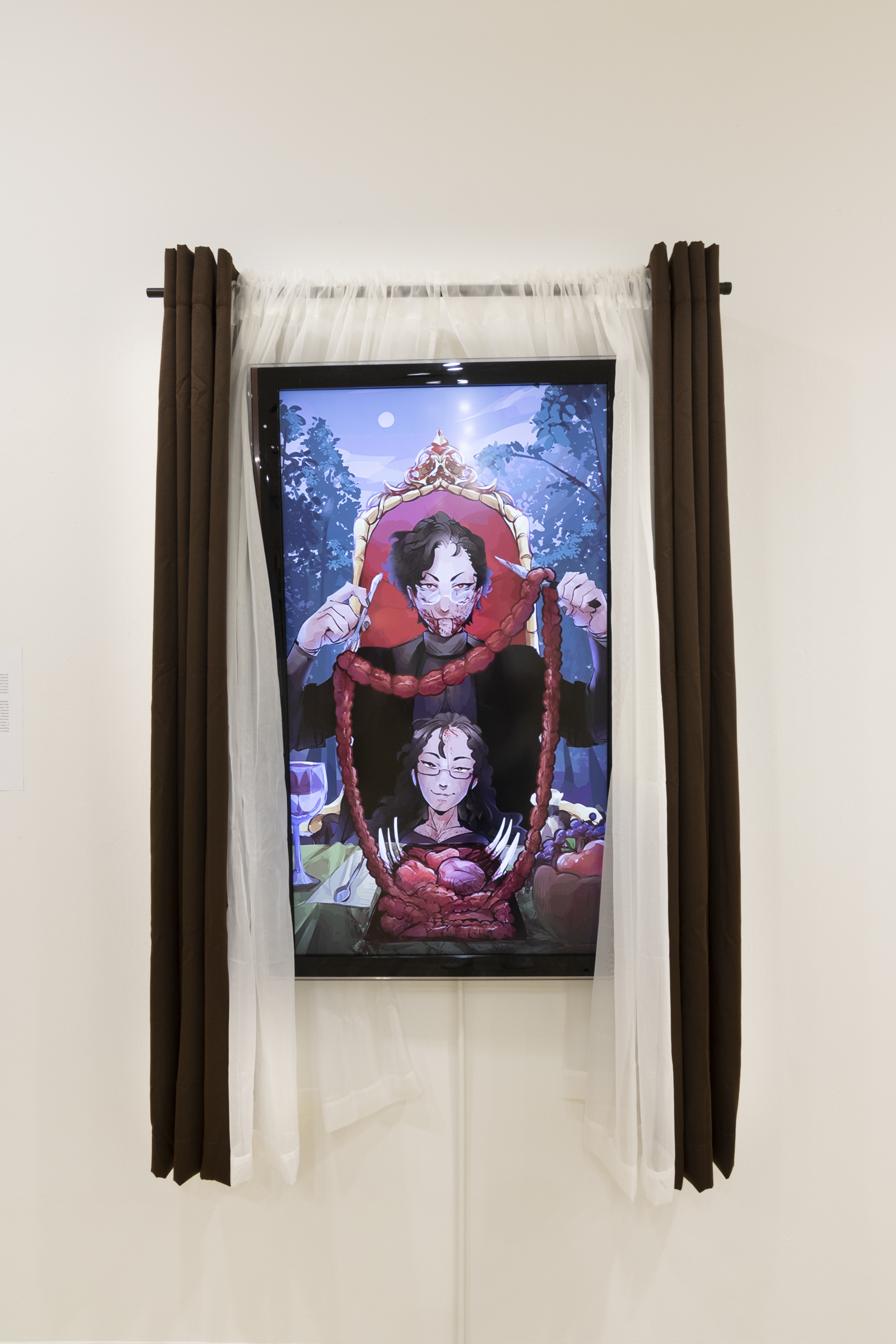 ---

Ian King // FUNERAL
Funeral celebrates the likeness of 24 folk and blues singer-songwriters and creates new images from what few exist in public records. Their portraits are finished with the ashes of incense: a symbol of a meaningful death, where a fragrant aroma still lingers in the air even after the fire eventually burns out. Ephemera graces the walls to signify their accomplishments and struggles – scribbled-out song lyrics, old photographs, sheet music, road maps, and smaller illustrations that highlight more anecdotal qualities of their lives. Old music plays softly from a dated stereo. Archival footage rolls on a loop. A memorial in the corner of the room invites viewers to take a piece of these artists home, physically or in their souls. And for those who once knew nothing about these unsung heroes, I hope their lasting resonance can be appreciated.

These past several years have led to a global phenomenon, an ever-present need to change lifestyles and adapt to loss. We collectively needed to discover ways to cope with the weight of solitude. I navigated this time of isolation by listening to music, particularly gravitating toward songwriters from the past whose words resonate to this day. Somehow, their sadness is comforting. Somehow, I saw myself and the whole human struggle in them and knew that I had to preserve their memories and legacy for the world.

So many of them passed away at young ages from unfortunate circumstances. Suicide, alcohol, drug dependencies, and sudden illnesses all caused them to fall from grace and burn into ashes when all they were trying to do was cope and survive. Jim Crow-era racism prevailed and prevented a handful of them from becoming more than just something white-run record labels could profit from. It is profoundly reflected in their lyrics. As time went on, a significant number of them faded into relative obscurity. It begs the following questions:


What happens when we pass on before we reach our fullest potential?
When we die, will we be remembered?
In the decades to come, how will other generations celebrate us?

For these troubadours who thanklessly blazed trails for modern music, it is time that they are given a proper funeral.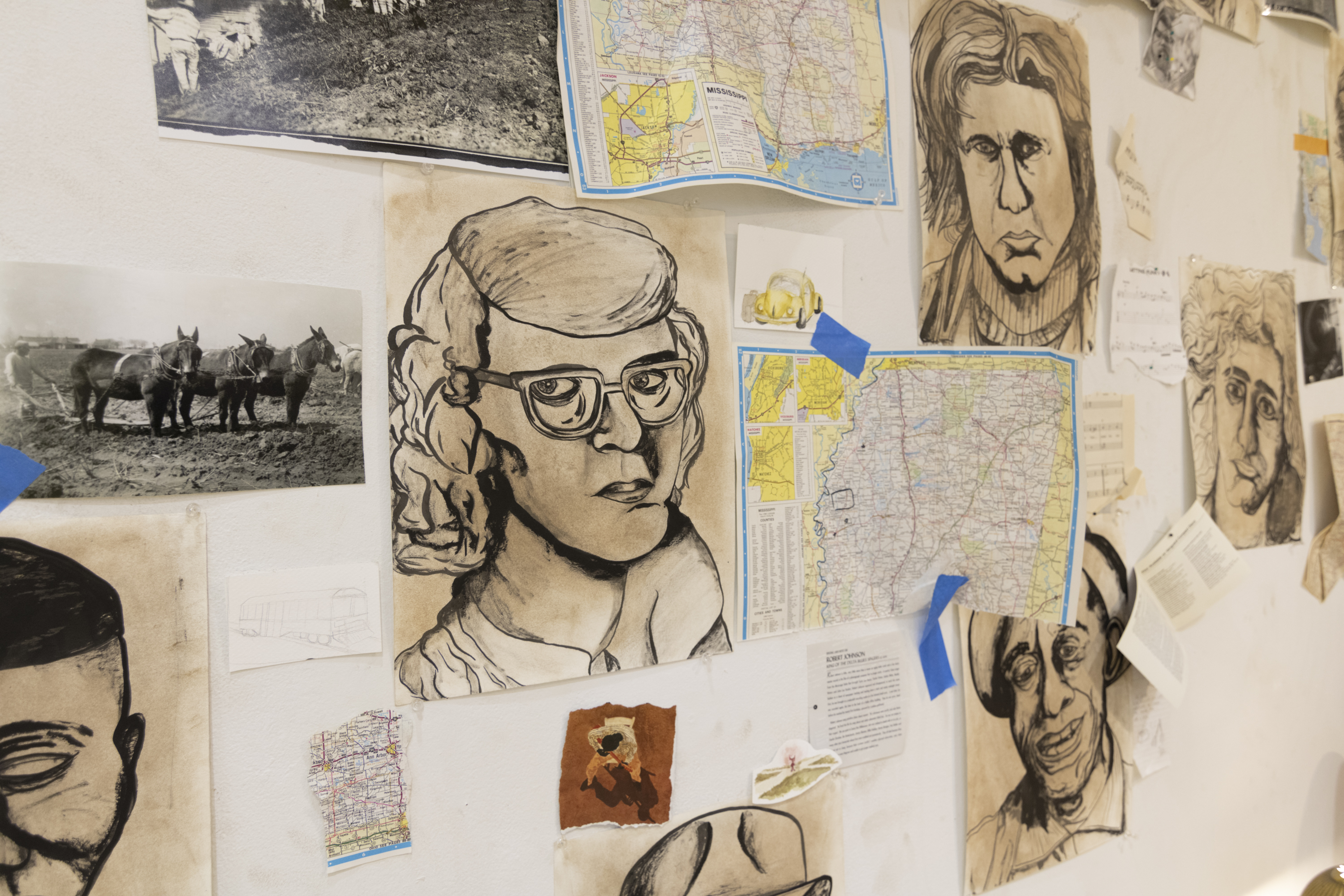 ---

Natalie Huaco // MANUFACTURED ENVIRONMENTS
Manufactured Environments is a study of communication between form and space. Inspired by the obverse relationship between nature and culture, this body of work explores ways of generating a rich visual language out of simplified forms. The materials used, communicate with one another through manipulation of their attributes, proximity, and the way in which they engage light and space. One of the goals behind this work is to breathe new life into materials and present them in ways seemingly unnatural to their typical state. Whether applying amorphic qualities to rigid surfaces or organizing free-flowing forms behind structured grids, this work is how I interpret the natural world existing in an urbanized society.

Inspired by the environments I grew up around, this work mimics the organic and industrial imagery that exists within urban environments. I find that there is an unexpected harmony between these two elements when brought together, and I feel compelled to investigate how this unlikely pairing can generate such an aesthetic appeal. In part, juxtaposing materials and/or reimagining them as new forms can accomplish this. However, when creating this work I find that materials, light, and space are all equally critical, and the shadows cast or light bounced by each form also add an important feature to the installation. Upon this discovery, I developed my work around its engagement with light and space.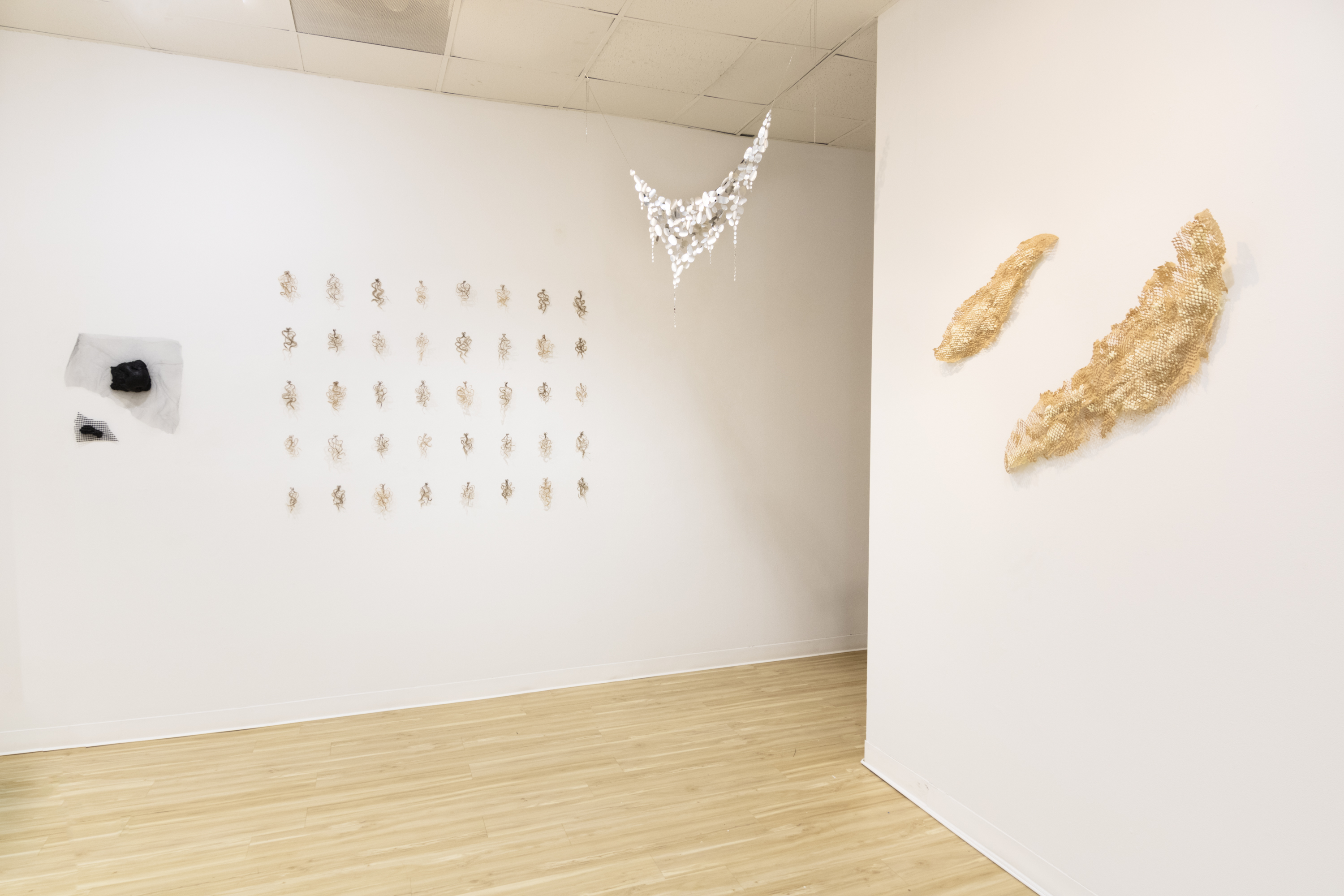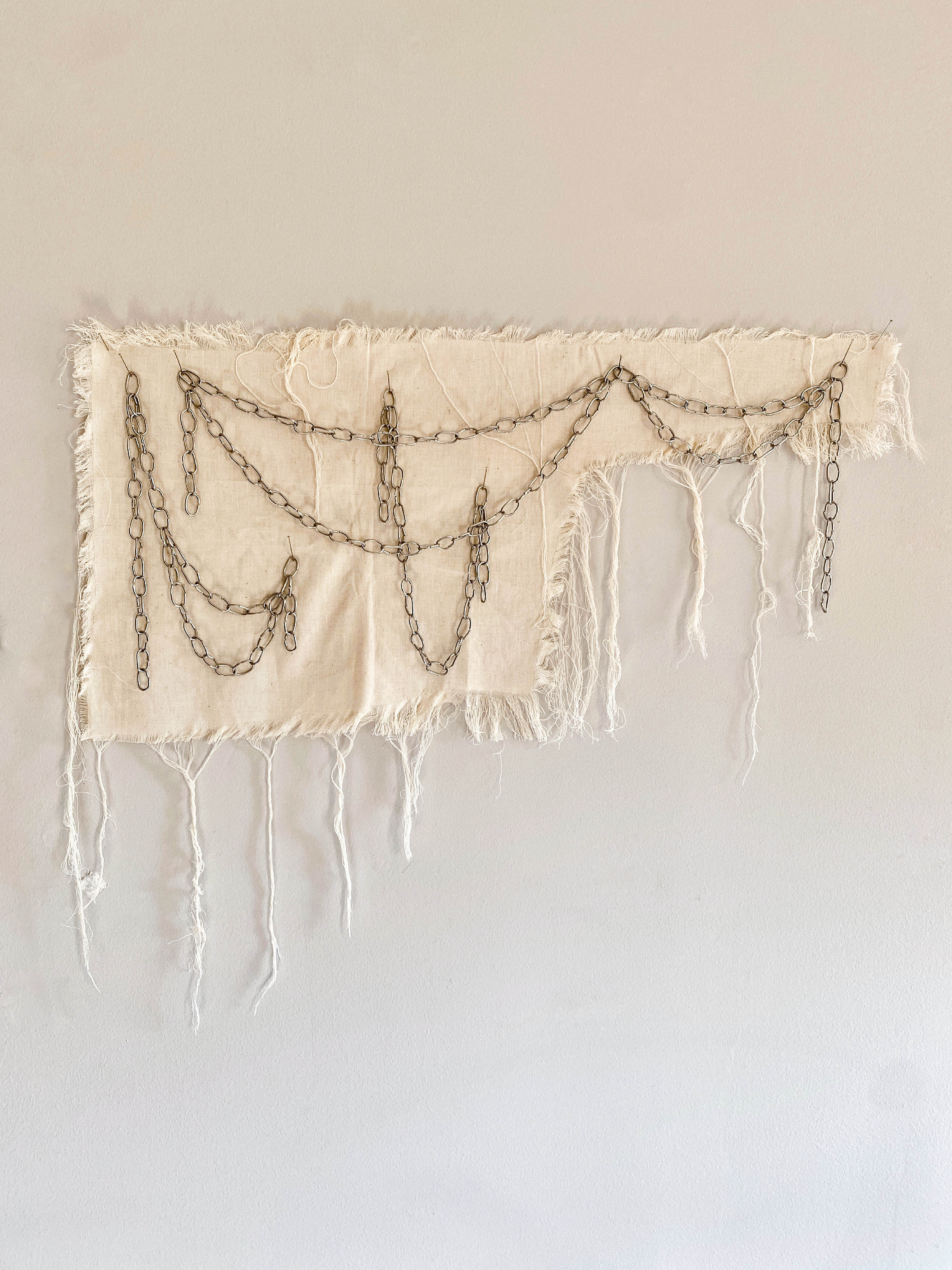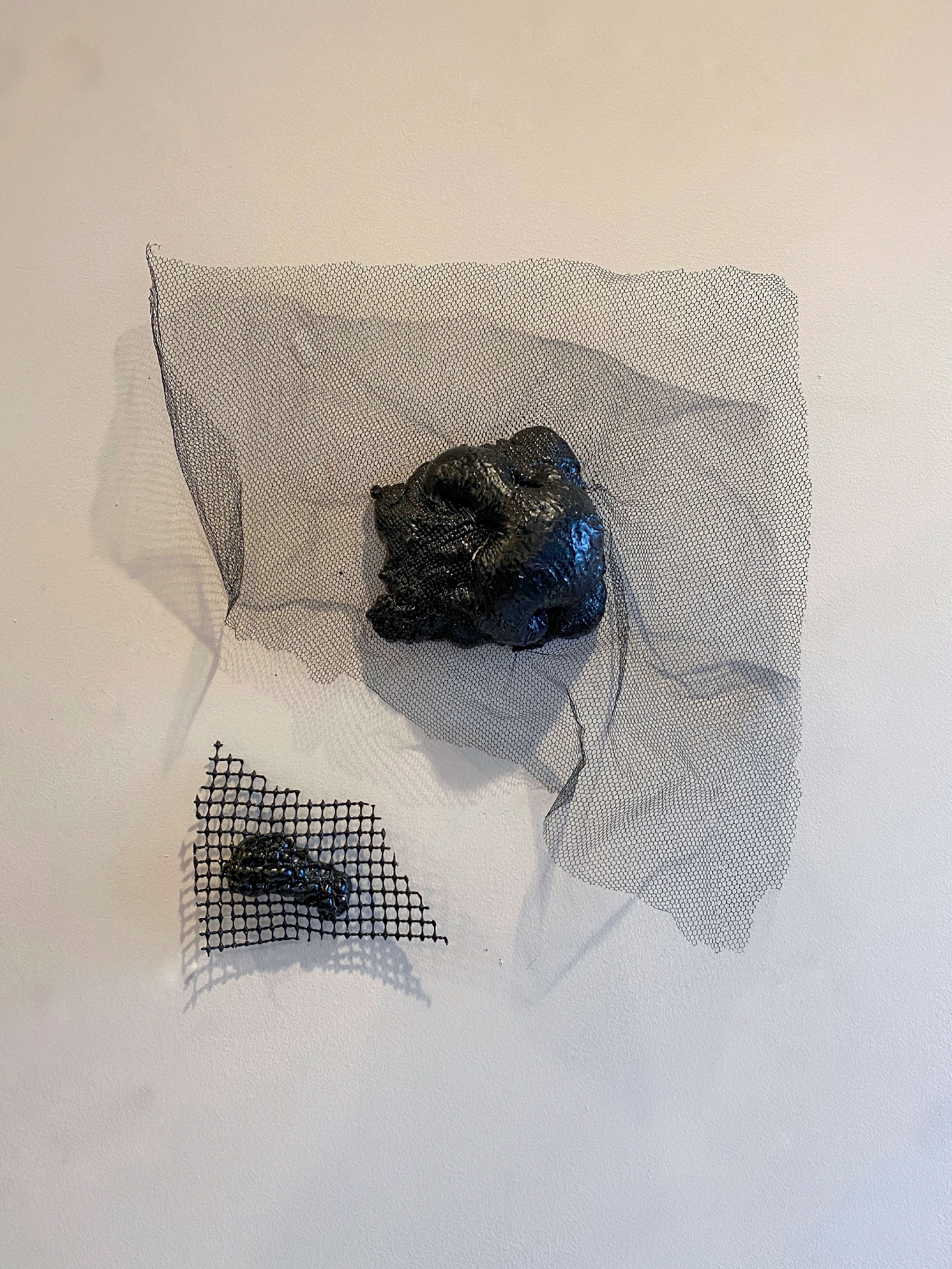 ---

Sara Adriani // 61 MILES
61 Miles is an exploration of my need to find the anchor of what a home is, based on the memories of my childhood home.


I run through the grass barefoot dancing through the laundry hanging on the clothesline as it flitters on the summer breeze. The sunlight makes the earth warm; the clothing glows like daffodils illuminated by daylight. I run up the creaking wooden stairs and opens the porch door, which never shuts tightly. It scrapes across the warped wooden floor and lets the bugs in. The smell of freshly turned oversaturated earth from the flower beds in the air. I run down to the basement to carry the next wicker basket filled with clean, damp clothes to hang out to dry.


This memory of a mundane summer chore plays like a VHS tape in my head, that is constantly on replay. I yearn for the nostalgic fantasy of my childhood home.

61 Miles stems from the psychological need to feel connected to the places we inhabit. Childhood homes hold the memories that shape us. When anchors no longer exist or have been altered, painted over, rearranged, we tend to feel lost. In my childhood home, my former bedroom has been painted over, the living room doubles as my dad's office, the family room is now my room as well as my mom's "work from home" space. The places I once knew no longer hold the same gravity. The places I am going to have so much uncertainty, they bring out the desire to find a permanent home. Life is transformative and the need to find something concrete can be consuming. Life's uncertainty makes having constants all the more important. Family and friends and home are that constant for me. However, my home is no longer my anchor. The people that I love are still there, but the nostalgic wave fails of going home to wash over as it did from childhood. The rooms have shapeshifted, but my thoughts of their original state haven't. The people in our lives can make our spaces feel important, but distance can create an ache for what once was.